SidelineSwap is a great place to buy and sell golf clubs, both new and used. We know that packaging golf clubs can be a challenge so we wanted to offer you a few tips to help you ship yours safely and efficiently.
Materials You'll Need
Quality packing tape
1-2 Triangular Shipping boxes (about 38" x 6" x 6"), available at FedEx.

Note: Avoid shipping anything longer than 48" to prevent shipping surcharges

Bubble wrap/newspaper
Scissors
Please refrain from using round, cylindrical, tube-shaped packaging and packaging encased with poly bags, bubblewrap, stretch/shrink wrap, or styrofoam.
Packaging
Our Seller Assist team ships golf clubs out on a regular basis, and they recommend using 38x6x6 tall corrugated boxes
Single putters, wedges and shorter irons usually fit in box 38" x 6" x 5". For Single drivers, woods or long putters, tape 2 boxes together. Be sure to cut the box down so the club will not shift around. If you sell 2 clubs to the same buyer and plan to ship together, you can typically fit a 2nd club upside down/inverted in the box.
For iron sets, we recommend taping 2 boxes together and cutting one side so the overall height is approximately 48". Place half of the clubs in the box with the head down and the other half inverted with the shaft down. We recommend wrapping the heads of each of your clubs in bubblewrap to prevent them scratching in transit.
Don't forget to also use your bubble wrap/newspaper to fill the space in the box to prevent the club from moving in the package. Items without bubble wrap/paper have a higher chance of shifting in the package and piercing the box. This can lead to your item falling out and being lost in transit.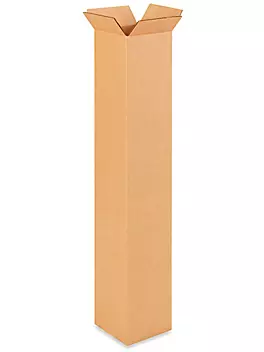 If you cannot get your hands on a medium tube box, you can always use a box you already own. Rug boxes, hockey stick boxes, and lamp boxes are good examples of the proper size and shape box that you could use to ship your clubs.
FedEx/UPS packing service
Don't have the time for all of this? Not a problem. You can stop by your local FedEx or UPS Authorized ShipCenter where, for a small fee, a packing expert can package your item for you. If you were provided a USPS label, you can still ship with FedEx or UPS. Simply update your new tracking number from your swap page once you have it!
Please click here and filter by Get packing services to find a FedEx location near you.
Please click here to find a UPS location.
For Canadian Sellers, we recommend checking out the ULINE 38"-48" Long corrugated boxes.